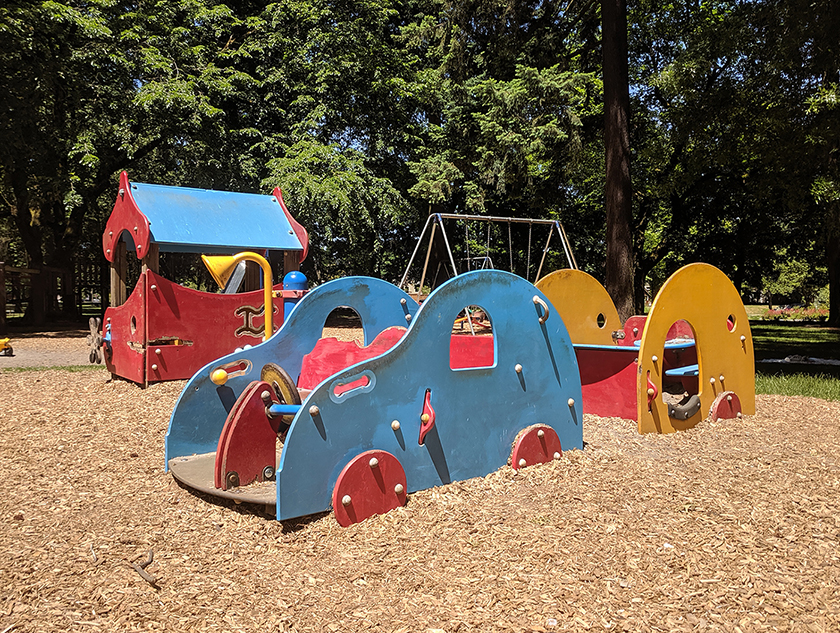 This little car and the playhouse behind it have been loved by generations of kids here in Northeast Portland. To be quite honest, it's been loved to death. It's splintering and those old boards are creaking. It's time to retire this hard-working piece of play equipment and get something new.
There is currently nothing in the city budget, however, to pay for a new toy car, which can cost over $20,000. That may seem like a lot but the price tag covers more than just a toy. The price includes the fabrication of the equipment in Minnesota, shipping the pieces out, removing the old parts, building supports below ground level, and assembling the new equipment, which is made to last about 30 years. This is not a cheap backyard toy that will break after a few summers — the equipment is made from high-quality, hard-wearing materials that will survive the thousands of rugrats who will climb all over it every day in the coming decades.
The Friends have worked with representatives from the city to come up with a way to privately fund the replacement of the equipment. We can't alter the site's layout — this would trigger a costly and time-consuming review process. The current budget situation at the Parks Department doesn't leave any staff time for such a review anyway, so we came up with a simpler solution — we'll select very similar items out of the catalog that the city already uses. These items are already approved, so they don't need review. The city also already has a contract with a construction company that installs play equipment in Portland's parks, so no review process is needed to pay them directly to install the equipment. All we have to do is come up with the cash.
Particular pieces of equipment that will go in will follow the theme that our neighbors voted for in our poll — Woodland. This was the landslide winner, and that came as no surprise to us as Wilshire Park's soaring Douglas Firs remind us of what we love most about Oregon — its beautiful natural spaces. So the broken little car will be replaced by something that looks like an off-road vehicle and the play house might be a little cabin. But they will be similar in size to the existing toys and will still be appropriate for children aged 5 and under. The basic function and overall look of the play space will not change, other than being more attractive and safer. After speaking with parents, the Friends have decided to buy a new car first, and then replace the cabin as the car is slightly more popular with the kids.
So what can you do? The best way to help is with cash. Any amount that you can give to this project will get us there that much sooner. Because the Friends of Wilshire Park are a grassroots group and is not legally able to handle money, the Central Northeast Neighbors Coalition has generously offered to act as our fiscal sponsor. They are an officially recognized part of Portland's neighborhood system and a registered 501(c)(3) nonprofit. This means they can legally accept donations and pay the company building the new play pieces. It also means that every penny donated is 100% tax-deductible. You can send your checks to:
Central Northeast Neighbors
4415 NE 87th
Portland, Oregon 97220
IMPORTANT: Please write "Friends of Wilshire Park" in the memo section of your check so that CNN knows that the donation is for the improvements to the children's play area.
We have other plans in the works to raise funds and will make more announcements soon, but direct cash donations will be the fastest and best way to make a difference at our neighborhood park. Our kids deserve safe, fun places to play, imagine, and grow. Your contribution can make a huge difference. No amount is too small.
If a financial donation is beyond your means, then you can also help by spreading the word! Tell your friends, neighbors, and relatives. Many businesses look for ways to make a difference in their neighborhoods, and Portlanders are known for caring about one another and having fun outdoors. The amount we need to raise is a very realistic goal, and we can get there with your help.