At last night's Friends of Wilshire Park meeting, one of the group members walked in the door and set this piggy bank on the table:
It was sent by her daughter, who learned that the group still needs more funds to pay for the new playhouse at the Wilshire Park playground. She had run to her room, grabbed her entire life savings, and gave it away to say thank you for the new car play structure and to do her bit toward finishing the playground.
This gesture is incredibly touching, but it's also a reminder that the work of caring for our community never stops, and that all of us need to pitch in according to our ability. We began our monthly meeting last night by celebrating the installation of the new play structure, which was funded entirely by the community. We all expressed gratitude to Portland Parks and Recreation for supporting our efforts and for the expert installation job. This new structure will last until the children playing on it today are parents themselves.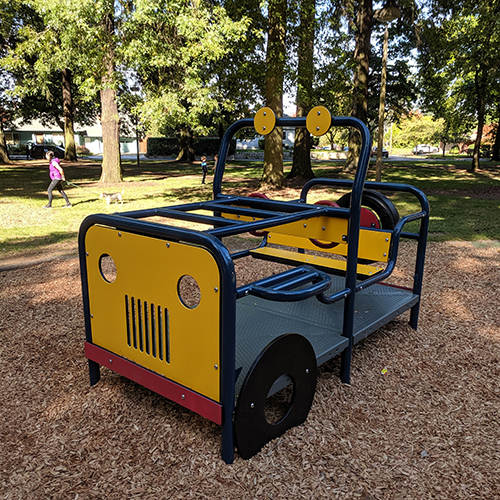 There's only one finishing touch to come — the wheels — and they will be added soon. In the meantime, the new car is proving wildly popular with the kids. Babies can crawl by themselves onto the floor, and older kids are having fun climbing all over — sitting on the hood, peeking through the "headlights," and loudly announcing that they are off to Alaska, San Diego, and/or Candy Land. We're happy for them to go wherever their imaginations take them.
But then our attention turned immediately to the next task — getting across the finish line for funding the new playhouse. Our playground is really looking good now, but we won't stop working until it has all the features it offered before and then some. Please consider donating today. Everything you give is tax-deductible and will make Wilshire Park a great place for kids and families for decades.
Getting the car play structure put in also proved to us the value of grassroots efforts to make our public spaces better for everyone. Without the support and advice provided by the Beaumont-Wilshire Neighborhood Association and the Central Northeast Neighbors Coalition, the Friends never would have been able to get this project done. If you haven't done so already, please consider speaking up on behalf of our neighborhood association, as there are currently efforts by a few city officials to weaken or even eliminate groups like ours. The Friends cordially invite those skeptical about the motives of neighborhood associations to come on out to Wilshire Park and see all the happy children playing on the new play structure. We didn't do this just for our kids or our neighbors' kids. We did it for every child that visits the park, and we intend to keep working to make our park a pleasant, beautiful place with something to offer for everyone.
Our meeting wrapped up with members making commitments to do a big push for funds and get the word out about our efforts. We also discussed our upcoming Rake and Plant Day on November 2. Volunteers should register so that we know how much pastry, coffee, and cocoa to provide. Don't forget to bring a rake with flexible tines to rake up leaves to mulch around Wilshire Park's trees, and bring your favorite garden tools if you'll be helping to put in black huckleberries in the NatureSpace. We will meet at the new car play structure at 9 am and then work until we are done.