Dog Park Water Fountain Fundraiser | We did it!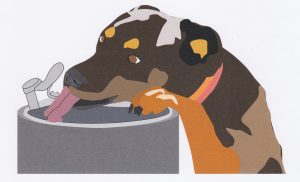 We did it! 
Thanks to the tremendous effort and commitment from Wilshire Park dog lovers, Commissioner Carmen Rubio and Portland Parks & Recreation and the community we have crossed the finish line in our fundraising efforts to add a water source to the off-leash dog area at Wilshire Park! The fountain is scheduled to be installed in April 2023.
Together we raised over $17,000 of the estimated $22,000 goal. Commissioner Carmen Rubio and Portland Parks and Recreation are committed to moving this project forward and will cover the remaining costs to install a spigot fountain in the dog off-leash area.
(Friends of Wilshire Park) and BWNA (Beaumont Wilshire Neighborhood Association) has worked together to raise funds for the Nature Park and the Children's Playground  and in September 2020 launched an ambitious fundraising goal to raise $22K to bring a piped-in water source to the  dog park.
On Sunday, October 30, Pip's Original Doughnuts pulled up to the park in their mobile van to help the dogs of Wilshire Park and their people celebrate the success of the fundraiser. A big thanks to Pip's, and all who donated to this community project.
So many people donated money and time to make this happen. Big thanks and tail wags to individual donors and businesses including Green Dog Pet Supply, Wild Pet Provisions, Pets on Broadway, 3 Dog Boarding & Daycare, Blackbird Wine Shop, Coco Donuts, Tacovore, Steeplejack Brewing Co., Pig Sauce BBQ, Tomorrow's Verse, McPeet's, and so many more.
Project Overview
The "estimated" cost of $21,692 to bring water to the dog park has two main buckets (1) Water Bureau fees of $11,692 and (2) Parks Bureau fees of $10,000.  The good news is that the water source won't be tied into the existing irrigation points in the park, which means that the water will be available for the dogs all year long.  The water source will be provided by the Portland Water Bureau to include a 3/8" water meter service, charges for Service Development, Meter Service Installation, Service Activation and Backflow Review and Inspection totaling an estimated $11,692.  The Parks Bureau Fees include Design Plan Development and Review, Backflow Device, Area Drain and Materials, Plumbing Line, Materials, Equipment, Frost Free line, Plumbing Labor, and a Contingency Fund totaling an estimated $10,000.
Some neighbors and dog park visitors have expressed concerns about the type of fountain and its hygienic safety as well as the possibility of the water source being used by people other than giving water to their dogs.   Mike Grosso or the Portland Parks and Recreation responded that to date the Parks Bureau has not found a correlation between water sources and increased homeless visitation. PP&R plans to have a drain so that the water doesn't pool and create a bacteria source.
The specific location will be determined by the design plan development and review between the Water Bureau and the Parks Bureau.  The current thought is to place the fountain in the vicinity of the picnic table.
Frequently Asked Questions:
FOUNTAIN
What type of water source is proposed? The current proposal is a pump handle spigot similar to Cully and Normandale Park.
What is the proposed location for the water source? The exact location in the  dog park  will be dependent on the final plan .  It will likely be in the vicinity of the picnic table.
Will this be accessible all year long? Yes, because this will be serviced by the water bureau and will have a frost free line – it will be available all year.  The park water is shut off in late November each year.
__________ __________________
New Playhouse Fundraising Success
We did it!
We'll have more details soon, but congratulations, community! YOU DID IT! We've raised enough money for the new playhouse in the toddler play area at Wilshire Park. During this difficult time of quarantine, children have been particularly affected by not being able to play in their favorite places with their friends. It's our hope that when it's safe to return to our public spaces, they'll have a new playhouse to look forward to. As soon as the order is finalized and we have an installation timetable, we'll tell you all about it. In the meantime, we wish to give our wholehearted thanks to the Central Northeast Neighbors coalition and Portland Parks and Recreation. Without their support this never could have happened.