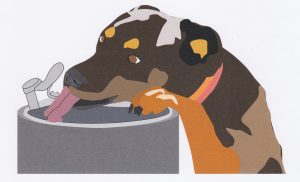 WE DID IT!
Thanks to the tremendous effort and commitment from Wilshire Park  dog lovers, Commissioner Carmen Rubio, Portland Parks & Recreation and the community we have crossed the finish line in our fundraising efforts to add a water source to the off-leash dog area at Wilshire Park!
Together we raised over $17,000 of the estimated $22,000 goal. Commissioner Carmen Rubio and Portland Parks and Recreation are committed to moving this project forward and will cover the remaining costs to install a spigot fountain in the dog off-leash area.
So many people donated money and time to make this happen. Big thanks and tail wags to individual donors and businesses including Pip's Dougnuts, Green Dog Pet Supply, Wild Pet Provisions, Pets on Broadway, Blackbird Wine Shop, Coco Donuts, Tacovore, Steeplejack Brewing Co., Pig Sauce BBQ, Tomorrow's Verse, McPeet's, and so many more.
WHAT'S NEXT?
We want to hear from you.  What do you want to see as the next improvement project?  Updating the kids playground? Bringing back the splash pad? Fence the dog park? Message  Board for community event postings?
Email us at friendsofwilshirepark@gmail.com
HOW CAN I GET INVOLVED?
Take part in monthly FoWP meetings These meetings currently take place via zoom at 7pm on the second Wednesday of each month. Send an email to friendsofwilshirepark@gmail.com for an invite and link.
We need volunteers and creative fundraising ideas. Is that you? Contact Mary Roney (maryroney643@gmail.com)
Do you know a local business that might be able to contribute (in-kind or cash)? Contact Gary Hancock (outside503@aol.com)
Do you have a skillset that would contribute to the The Friends of Wilshire Park? (photographer, artist, screen printer, web designer, screen-printing)  Contact Mary Roney (maryroney643@gmail.com) or Kelly Thompson (kellydery@icloud.com)