Our push for volunteers and donations for the NatureSpace is rolling out! We have secured a grant for about $10,000 from the Community Watershed Stewardship Program and have applied for more, but any extra donations that come in will mean more plants, shrubs, and trees for a vibrant, healthy habitat between the picnic area and the pavilion at Wilshire Park. We also have a site plan. Check it out!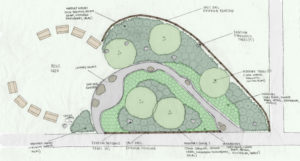 The space will be enclosed by a simple split-rail fence, with a curving path and layers of low, medium, and tall plants to fill the canopy under the mature Douglas Firs already at the park. Here's the location of the NatureSpace within the park: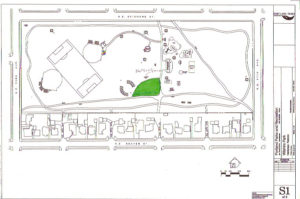 We've been working with members of Portland Parks and Recreation to develop this plan. Our hope is that the NatureSpace will serve many needs. It will help prevent runoff and erosion into storm drains, provide shelter and food for native and migrating birds, and give bird enthusiasts a great place to spot their favorite flying friends. As it's adjacent to the picnic area, we know it will provide a pleasant place for children to explore or for families to sit and relax after a meal. We've also learned that students from Beaumont Middle School have surveyed the site with their science teachers, taking soil measurements and counting the number of plant and animal species they saw in the home of the future NatureSpace. An ongoing school science project will be to track the soil health and biodiversity of the site. This project is especially gratifying to the Friends of Wilshire Park, as it shows what a direct public benefit the NatureSpace will be.
As Friends of Wilshire Park is a grassroots organization, we are not a 501(c)3 and cannot collect tax-deductible donations. To ensure that we are transparent about how we handle funds and meet every legal requirement for fundraising, we've partnered with the Central Northeast Neighbors Coalition, the umbrella group for our cluster of Portland neighborhoods here in Northeast. They'll hold onto every tax-deductible donation that comes in for the NatureSpace, and donors will be able to see how every penny was spent. A crowdfunding effort will begin soon to augment the grant we've secured, which will mean more plants, a more lush space, and more happy people and animals at Wilshire Park.
Our page at friendsofwilshirepark.org/volunteer will always have the latest information on what you can do to help make the park a nicer place for everyone. If you would like to be added to our mailing list for Wilshire Park Volunteers, please drop us a line at friends@friendsofwilshirepark.org. We will never share your information with third parties and you will only receive information about volunteer projects at the park. You can also subscribe to our newsletter using the form in the column to the right on this page. This will allow you to get all of the news and announcements about upcoming projects, meetings, and events.