Things are looking good for the Wilshire Park playground. We hosted a successful fundraiser at The Wiggle Room on July 29 and donations have been coming both directly to the offices of our neighborhood coalition, which is kindly acting as our fiscal sponsor, and to our GoFundMe account. This project would not be possible without the help of the Central Northeast Neighbors, which works hard to support our community in more ways than we know.
The fundraiser party kicked off at 9 AM, and all day there was a bubble machine, popcorn, and face painting, music, while their parents relaxed with food and drinks in the Wiggle Room's café space. Volunteers from Friends of Wilshire Park read stories and led a ukulele sing-along. The event did just as much to raise community awareness of the value of this project as it did to bring in the funds needed to purchase and install a playhouse at a park that draws in parents of young children from all over Northeast Portland because of its level ground, well-shaded play area, and equipment that is good for babies and toddlers.
Many local businesses generously donated to the event, giving gift cards for a raffle and items for the auction. House Spirits, Gazelle Natural Fiber Clothing, Laurelwood Brewhouse, Just4Kids Clothing, New Seasons Market, Fit4Mom Cedar Mill, The Portland Symphonic Choir, and Keys To Life Music all made contributions, as did several neighbors who are active members of Friends of Wilshire Park. Please show your thanks to all of the community sponsors who help us.
So where are we at financially? Well, the new car play structure has been purchased. We don't have an exact delivery date yet but it will be installed within the next few months and we'll provide updates as often as we can. It will look like many of the other off-road vehicle type toys in other parks in Portland, such as the Mount Tabor playground: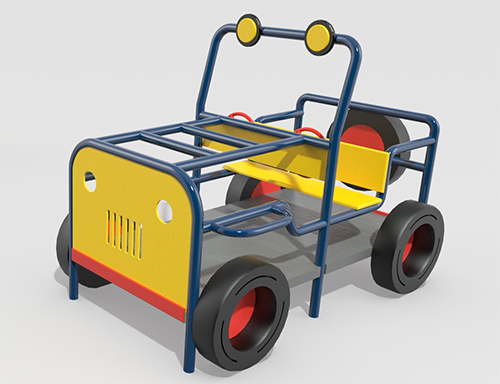 Check out those dual steering wheels! No more fighting over who gets to drive. This design is in keeping with our community poll, which favored a woodland theme.
So what about the playhouse? As of the beginning of August, we have got $2,690. That's cash on hand from all donations after $15,025 was paid out to purchase the new car toy. That may seem expensive at first glance, but that price includes demolition of the old car, clearing away the site, building new supports, having the car toy manufactured in Minnesota and shipped here, and then having it installed. This toy will also survive 30 years' worth of children climbing all over it. It's a good investment in our children and our neighborhood. We'll need roughly the same sum to purchase a new playhouse, although the more we raise the more options we have for purchasing play structures. The exact price for an item depends upon when it is purchased, as factors such as fuel costs and whether or not the item is purchased as a one-off or part of a bulk order for other play structures destined for Portland's parks can have a substantial impact on pricing.
Now, what can you do? Our fundraiser party really did a lot to raise awareness and some cash, but what we really need now is, well, cash. All donations to this project are 100% tax deductible and can be made by visiting friendsofwilshirepark.org/donate. Now that school is back in we are hoping that parents active in local PTAs, members of scouting groups, and other child-focused organizations will help us keep spreading the word and bringing in enough cash to get this project finished. You can print and share handouts, tell people to subscribe to our newsletter, or come to our next meeting to help out.